Products
Showing 65–80 of 100 results
Sales Details: All plants are shipped bare root. Lily sizes refer to width and Lotus sizes refer to height. Marginals are all shipped in the one gallon size. We ship via US Postal Service Priority Mail throughout the United States. FOR INTERNATIONAL ORDERS PLEASE CONTACT US for information about additional shipping costs and plant inspection charges BEFORE you place an order. Shipments are made Monday, Tuesday, and Wednesday to insure plants do not stay in transit over the weekend. Please arrange to have your package delivered to an area not in direct sun as the plants will not take high temperatures.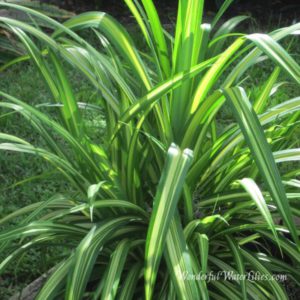 Pandanus Baptistii Variegata
Screw Pine is not a common aquatic plant however it does very well in water and is always well groomed. It pups readily and will grow into a shrub or tree if not confined. If it is planted in a 3 gallon pot it will fit the size requirements for most ponds and provide shade for fish. Grow in full sun, moist or dry soil or in water to 2 inches over the crown. Zones 9-11.
$

8.00
Add to cart