Dichromena latifolia
White Top Sedge is grass like with white blooms. It will grow 12-24 inches tall and may be given a hair cut if it is too tall. It grows best in sun to part shade and moist soil or up to 1 inch of water over the crown. Zones 8-11.

When shipped, this item will be packaged bare root in the one gallon size.

Related products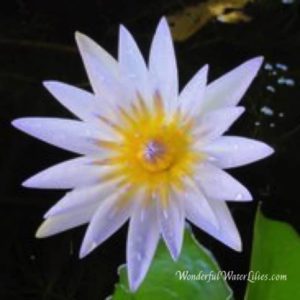 Dauben
Do you need a small dependable plant that blooms with multiple blooms year round in zones 9-10? This is the one. While it is not real showy it is very dependable and highly scented. The light blue flower petals offer a striking contrast to the green pads. Because it is viviparous it withstands cooler water temperatures and will yield many new plants.
Important: 
When this item is currently unavailable, due to its seasonal nature, it may be pre-ordered in February and March for pick-up or delivery as soon as it becomes available, a date that will vary from year to year, ranging from March through May.  Please use our Contact page to arrange a phone call or an email exchange to discuss the item's availability this year
. 
Out of Stock
$

45.00
Select options