Pond Plants
Showing 1–16 of 87 results
Important Sales Details: Lily sizes refer to width and Lotus sizes refer to height. ••• Potted lotus contain water and may not shipped, but you may pick them up at the nursery when they are in season, from April to July, or as long as they are in inventory. ••• When Lotus Tubers and/or Lilies are seasonally unavailable you may pre-order them for prompt delivery as soon as they become available. Call or email for information about availability. ••• All plants except Potted Lotus are shipped bare root. ••• Marginals are shipped in the one gallon size. ••• We ship using the fastest delivery service (not express) to your address. ••• Please arrange to have your package delivered to an area not in direct sun as the plants will not take high temperatures. ••• FOR INTERNATIONAL ORDERS PLEASE CONTACT US for information about additional shipping costs and plant inspection charges BEFORE you place an order.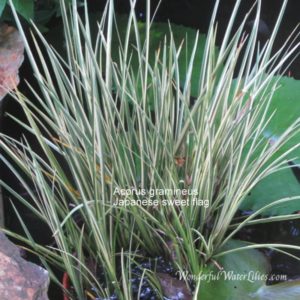 Acorus gramineus Variegata
Also known as Variegated Sweet Flag. It is an ideal plant to add texture and height in a pond. A bonus is the pleasant aroma emitted when crushed. It will grow 8-10 inches tall and spread 12 inches. Grows best in sun to part shade with water depth up to 6 inches over the crown. Zone 4-11. When shipped, this item will be packaged bare root in the one gallon size.
$

8.00
Select options